King's Mums was founded by Leland Theodore "Ted" King.  He and his family owned and operated the nursery in central California for 54 years, from 1954 until 2008.  The business, serving the amateur gardener and professional grower, evolved from a hobby of collecting unusual and exotic Chrysanthemums from around the world.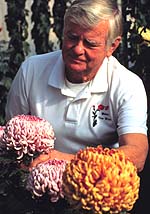 In the fall of 2008 Kim and Ray Gray purchased the business from Ted and Lanna King. In January of 2009 they moved the operation to their small farm in Oregon City, Oregon. Kim and Ray worked hard to carry on the fine tradition started by the Kings while implementing new procedures and technologies.
In 2014 Brian and Sheila Kanotz purchased the business from Kim and Ray, and relocated the business to a location near their home in Tulsa, Oklahoma. Brian and Sheila are professional horticulturists who have degrees in Horticulture and many years of professional experience working at public gardens such as Callaway Gardens and Longwood Gardens. Brian has been growing Chrysanthemums since he was an intern at Longwood Gardens in 2001. He was first introduced to the many classification and forms of growing while there. His first experience with Chrysanthemums was helping to train the cascading Chrysanthemums for the fall displays. He is an accomplished grower with twenty years of professional growing experience and an extensive knowledge of Chrysanthemums. He has personally grown and overseen the production of over one hundred thousand finished potted plants and hundreds of thousands of rooted cuttings of Chrysanthemums.
Sheila is the director of horticulture for the Philbrook Museum of Art in Tulsa, Oklahoma in addition to helping with the nursery.
Brian and Sheila continue to carry on the traditions of the previous owners . Our extensive collection of plants includes more than 150 cultivars and has become the major source of large exhibition and spray mums in the U.S. The company continues offer this comprehensive collection of Chrysanthemums to the retail market, public gardens and cut flower growers.